Remote Car Starters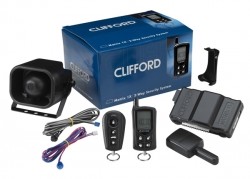 Ever wished you could start your car before you got in? Tired of freezing while your engine warms up on chilly January mornings? Fed up with the sweltering temperature inside your car on July afternoons? Then it's time you called Audio House of Napa for your remote starter. Perfect for year-round driving comfort, your remote car starter can help you beat the annoyance and discomfort of temperature extremes in your car or truck. We're your source for complete car starter sales and installation, so give us a call today! Audio House is ready to help make your driving experience enjoyable no matter what the temperature outside.
Remote starters enable you to conveniently turn on your engine without having to be in the car: With a variety of ranges (typically from 500 to 1,000 feet), our remote car starter products allow you to start your vehicle from inside the comfort of your home, workplace, or even the mall or grocery store. By the time you actually get into the car, the temperature is heated up (or cooled down), and the engine is warmed up and ready to go! In addition to increasing your personal comfort, remote starters can also enhance your vehicle's performance by reducing the strain on your engine.
Audio House carries several different options in remote car starters, and our MECP-certified staff can help you select the one that's perfect for your vehicle and your needs. Some of the many convenience options offered by our car starters include:
Keyless entry
Cutoff switches
Car alarms
Car locators
Anti-grind systems
Time-control options
Bypass modules
And more
No matter what your needs or vehicle type, you can trust the pros at Audio House to help you find the remote starter that best suits you. For the best in year-round comfort, contact us today to learn more about remote starter installation for your vehicle.
And remember, remote car starter installation isn't a job for amateurs. Improper installation could jeopardize your vehicle's security, and cause irreparable damage. Since your car will be running without anyone in it, safety is an important concern—that's why you need Audio House for your car starter installation! Our MECP-certified installers are fully qualified to properly and completely install your remote car starter for optimal function, ensuring your system will operate correctly and your vehicle will be secure while the engine is running. Why risk it with DIY or amateur remote starter installation when you can get the best quality and workmanship from Audio House! Call or e-mail us today to schedule your appointment for professional remote starter installation that you can depend on.
Remote Starter
Remote Starter
Remote Starters
Remote Start System
Car Starter
Automatic Car Starters